Celebrate Heritage Open Day at St Vincent de Paul
Posted on Tuesday 30 August 2016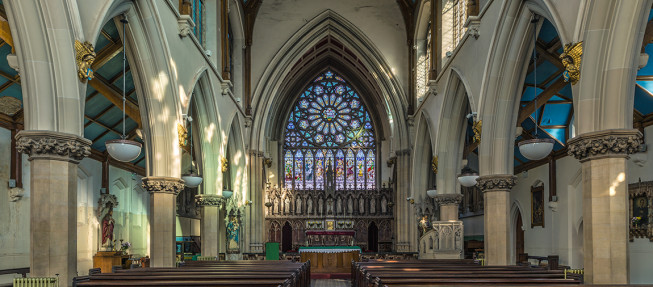 We are delighted to announce that our sister Church within the Parish, St Vincent de Paul will take part in this year's Heritage Open Day event.
On Saturday 10 September, St Vincent de Paul will open its doors from 4.30pm, offering members of the public a rare opportunity to explore this beautiful building.
Designed by Edward Welby Pugin, St Vincent de Paul is situated in Liverpool's Baltic Triangle area. It will celebrate its 160 year anniversary next year. It is a building of great architectural significance, thanks to its unique features which include stunning stained glass windows, stone carvings by William Farmer, bespoke furniture designed by Pugin and a polygonal roof comprising of 216 panels.
St Vincent's will be open to visitors from 4.30pm, with a talk followed by a tour, then a short organ recital at 5.30pm by Joe Watson, our organ scholar, followed by Vigil Mass at the normal time of 6pm.
St Vincent de Paul is situated at St James' Street, Liverpool L1 1EE.
Entrance is free. For more information, email enquiries@metcathedral.org.uk
The Metropolitan Cathedral and Lutyens Crypt will also be open to visit as normal.