Concert – The Sixteen Choral Pilgrimage 2016
Cathedral

Friday 7th October 2016, 7.30pm - 9.30pm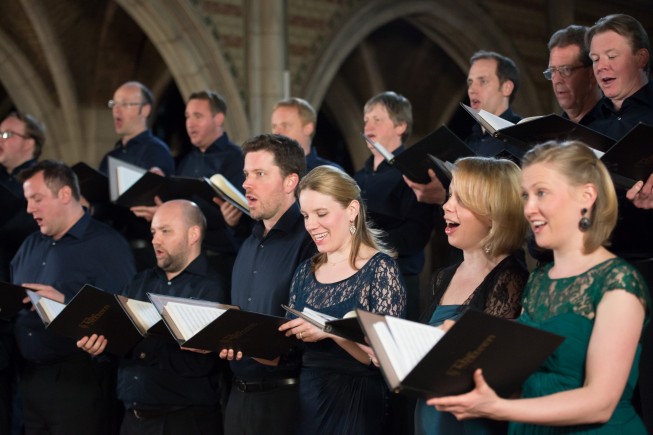 After 35 years of worldwide performance and recording, The Sixteen is recognised as one of the world's greatest ensembles.
Comprising both choir and period-instrument orchestra, the group perform works of the Renaissance, Baroque and early Classical music, along with 20th-century music.
The group, led by founder and conductor Harry Christophers CBE, have performed at many venues across the world including the Barbican in London, The Sydney Opera House, Vienna Musikverein, and Tokyo Opera City.
We are delighted that they return to the Metropolitan Cathedral again this year.
This concert will celebrate the work of William Byrd and Arvo Pärt, composers from very different eras, both of whom are considered masters of sacred music despite having faced considerable persecution for their work. The programme explores the different ways in which Pärt uses his unique 'Tintinabuli' style to mesmerising effect, and we will revisit a piece performed at the Sixteen's very first Choral Pilgrimage, Byrd's beautiful Ad Dominum cum tribularer.
| | |
| --- | --- |
| Byrd | Diliges Dominum |
| | Christe qui lux es et dies |
| Arvo Pärt | The Deer's Cry |
| Byrd | Emendemus in melium |
| Arvo Pärt | The Woman with the Alabaster Box |
| Byrd | Miserere mihi Domine |
| | Ad Dominum cum tribularer |
| Tallis/Byrd | Miserere nostri |
| Tallis | When Jesus went |
| Byrd | O lux beata Trinitas |
| Arvo Pärt | Nunc Dimittis |
| Byrd | Laetentur coeli |
| | Tribue Domine |
Tickets are priced at £16.00 and can be obtained in advance from the national box office – 01904 651485 / www.ncem.co.uk
Entrance on the evening is via the car park entrance. Doors normally open at 7.00pm and refreshments are usually available during the interval. For parking, the car park under the Cathedral is available with direct access to the concert venue by lift or stairs. Limited capacity on a first come first served basis. A parking charge of £3.00 is payable on arrival.
Further information from:
http://www.thesixteen.com/page/the-choral-pilgrimage-2016-liverpool